After two weeks of getting the gardens back in shape, I finally climbed down from the ladder and removed my deerskin gloves. I stood back to admire the roses I had just pruned, gathered up my tools and peeled off the extra layer of denim that does a superb job of protecting one from thorns while having a full body immersion in rosa floribunda "Lime Sublime".
That morning I had crawled around in the shade of a respected Douglas Fir, tidied the copper bird bath and plucked a couple hundred weeds that were hiding behind a wall of Digitalis purpurea. Common foxglove is labeled an invasive species here in Washington but I let it enjoy grandfathered perennial status in my garden. Who can resist gorgeous, long-lasting spires that are happy to fill in the blanks before a backdrop of charcoal stone walls?
Every empty pot from the greenhouse was now refreshed and blooming plentifully. The two packets of nasturtiums that I had picked up half-heartedly from the rack at Thriftway have become the surprise stars of the garden. They never grew very well in my other gardens, but they're loving it here—as I am.
Nasturtiums have been my favorite tra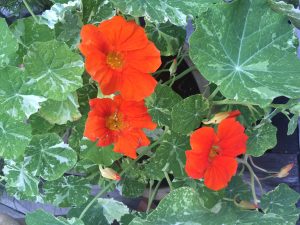 iling annual, ever since stepping from the street into the bright inner courtyard of the Isabella Stewart Gardner Museum nearly fifty years ago. Their variegated foliage dotted with brilliant orange and lemon-colored blooms hung in a curtain twenty or thirty feet from the fourth floor window boxes of Mrs. Gardner's living quarters.
I had a boyfriend who was Henry Higgins to my Eliza Doolittle. I was a naive farm girl and he, a tweed-jacketed student at a private men's college. He introduced me to the Gardner Museum on The Fens in Boston, took me to dinner at La Petite Auberge and presented me with bouquets of fragrant flowers that filled the elevator with their heady scent as we rode up to the 8th floor of my dormitory amidst the envious sidelong glances of other bell-bottomed young women.
---
At home, we never had flowers on the table. With the exception of Mummy's favorite lilacs in June, Daddy wouldn't allow it. He said that florist flowers reminded him of funeral homes. Leave it to him to find evil and sadness in soft-petaled Stargazer lilies and pendulous snapdragons.
But my love of flowers grew as tall as the roses on my arbors. Here in coastal Washington, many of the plants are foreign to me. There are lots of new Latin names to learn and growth patterns to observe.
Best of all, while I'm dead-heading lilies or untangling clematis, my mind can wander freely. While raking up the fir cones after a storm, I can leaf through ideas for future writing. While cutting lavender to weave lavender wands for my dresser drawers, I can harvest ideas for an essay.
And sometimes, I'm able to encourage new growth by thinning out a chapter that I'm not a hundred per cent pleased with.
A little pruning, a little staking. Companion planting of subjects and objects. Like walking the rows in a landscape nursery, I enjoy searching for the perfect verb to complement a noun.
While kneeling at the edge of the lily pond and reaching to remove some fallen leaves, I see my reflection in a g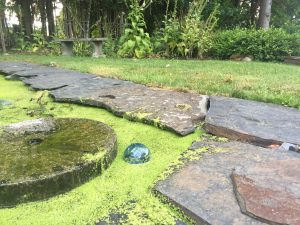 lass orb floating on the surface.
I'm no longer that young Eliza Dolittle, but I still have a lot to learn.