After flights totaling 21 hours, we wearily checked into the El Mansour Hotel in the old Medina of Casablanca, Morocco. Roger left me in the dark shuttered room while he hailed a cab to pick up our rent-a-car. "I'll be right back," he said.
That was more than 40 years ago. February 1975. Our honeymoon.
Four hours later, my husband had not returned. I had taken two showers, paced back and forth endlessly, stripped off my clothes and burrowed deep into the downy bed, hoping to fall asleep and escape this nightmare.
I dressed and stepped out onto the balcony, shading my eyes from the brilliant sun that sparkled in the waves crashing on the Barbary Coast in the distance. Lorries and men in djellabas leading donkeys piled high with bundled goods vied for position in the street below. There was much crying and gnashing of teeth. Mine.
Finally, the brass doorknob turned. In strolled Roger, as though he'd just popped down to the lobby for a newspaper. An argument ensued. Roger claimed that some fellow had transported him all over the city because the car rental office was closed that day.
The next morning, he led me to a white Renault sedan and we headed north to Fez via Rabat. Roger was driving, although perhaps he might not have had the appropriate license. A young fellow, seeing our hippie clothing, had approached Roger earlier. Roger said the fellow would be our guide.
Distracted by this man in the backseat, Roger promptly zipped through an intersection, ignoring a traffic policeman's directive to stop. Said policeman promptly signaled us to pull over. Our guide leaped from the back seat and ran away. I saw him growing smaller and smaller.
The policeman spoke no English. We certainly had no Arabic, and very limited French. The policeman commandeered a big-finned '59 Chevy Impala and, as he climbed into the vehicle, he looked back, swiveling his wrist in a "follow me" gesture.
We traveled through narrow streets, finally emerging into a bustling square. An enormous pockmarked white stucco building stood at its edge. Unshaven men in dingy grey shirts stared out through barred openings.
The policeman, with starched uniform and stiff-brimmed cap, motioned out of the car. He brushed the street dust off his epaulettes, and adjusted the hem of his jacket. Throwing back his shoulders, he led us into the miserable building through a small cellar door.
There, across the vast, dirt-floored room, an enormous mahogany desk rose above us.
A ray of early morning sunlight shone through the single tiny window, and the polished surface of the desk reflected the somber faces standing in the long queue of derelicts beneath it.
A scowling magistrate peered down through wire-rimmed glasses. The policeman led us to the end of the line and as we inched forward, Roger formulated a plan.
"We'll say that you're ill from the heat. No—from your period! You have cramps! Hold your stomach. Moan!
When it was our turn, Roger pled "Ma femme est malade!"
A staccato conversation rose between the judge and the policeman. Suddenly the voice of the judge became louder– angry! What? The judge was reprimanding the policeman! Mon dieu! We just might get out of this.
The policeman led us back to the street, where he motioned that I was to drive. Roger hung his head, suitably shame-faced, and slid into the passenger seat. With an expression of disgust, the policeman waved me away from the curb. I shifted into first, then second, and pulled into a roundabout.
"Go!" he called, pointing north, "Go!"
Many kilometers later, we passed through Meknes and finally entered the capital city of Rabat. We were greeted by a traditionally garbed water-seller who poured cool water from his goatskin bag into shiny brass cups. We ate couscous in a café, then French pastries from a bakery. We were licking our fingers—rich strawberry tarts washed down with cold Oranginas.
Back in the car, we exited through the elaborately carved gates of the city, and soon were in the middle of nowhere, cruising along a smooth asphalt road that waved up and down, curving around orchards bright with oranges. The Atlas Mountains rose in the distance.
An argument ensued. Roger wanted to drive the car. "There's no one here," he contended. We quarreled for forty kilometers. Maybe more. I held my ground. He may have called me a "b*tch". I may have said he was a "f*cking idiot.
Suddenly we heard a siren. It couldn't be. It was. A motorcycle cop with a pen and ticket book in his hand. He spoke good English. He said that I had passed a donkey cart a while back in a "no passing" zone. Indeed, I had.
For a mere 200 dirhams (about US$50 at the time) we could put this little incident behind us. I peeled the bills from my wallet and smiled with appropriate humility.
At Fez, we hired a licensed guide who showed us his city with great pride and let me wear his fez for photos. We spent the night in a tiny hotel where the echoing Muslim call to prayer awakened us at dawn. We set out on the long road through the mountains to Marrakesh singing brightly. You know the song. "I've been saving all my money just to take you there, I smell the garden in your haairrr…"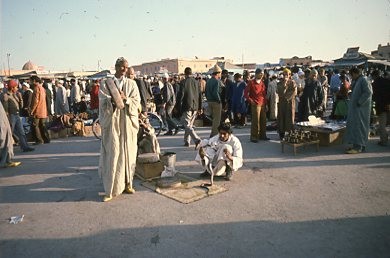 We found a room near Djemaa el Fna. A snake charmer removed his cobra from a coiled basket and led him in a hypnotic dance on a blanket. I practiced my negotiating skills, acquiring leather goods and djellabas from the vendors that surrounded the square.
It was time to head to Casablanca again, this time across the desert. Shimmering mirages appeared as a train steamed past us to the east. We rolled the windows down in the heat, singing "Marrakesh Express" at the top of our lungs.
Guess who was driving?