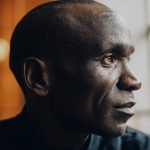 I haven't followed the sport of running in recent years, but this morning's profile of Eliud Kipchoge in The New York Times caught my eye and I was only too happy to have it interfere with my writing frustrations.

Eliud Kipchoge is the greatest marathoner ever. He broke a world record in Berlin this morning. 2:02.
The only running I ever did was running from my mother in my toddler days when I perfected the long distance sprint through our apartment. My sprint always culminated with a flop and slide on the cold linoleum floor of my bedroom and ended on the far wall beneath my bed, clinging to the galvanized springs.
Why reading about running?
Because: Massachusetts. Because: Boston. Because: Patriots Day. Because: Boston Marathon.
The Boston Marathon is always held on the Patriots Day holiday, and in Massachusetts Patriots Day is more about the marathon than Lexington and Concord.
It was also a school holiday. As a young teacher, I turned on the TV and listened to the marathon broadcast in the background as I hung out on my day off, half-listening to Heartbreak Hill but especially the final mile and the laurel wreaths. The rainy days, the hot days, the snow and sleet days. The we-run-no-matter-what-the-weather days.
Johnny Kelley, Bill Rodgers, Kathy Switzer. Dick and Rick Hoyt. Even Rosie Ruiz. The Tsarnaev's. We know the names. The successes and the failures. The inspiration and the shame.
Running is about challenging yourself and about endurance for the long haul. Same goes for being a writer. Some days you wonder why you're still trying so hard. You think of all the books you could be reading, if you weren't so engaged in the writing.
Eliud Kipchoge attributes his success to Patrick Sang, his mentor and coach, a relationship that began years ago.
Kipchoge:
"If I hadn't met him, my life would be different."
Sang explains it this way.
"When you're young, you always hope that one day you'll be somebody," Sang said. "And in that journey, you need someone to hold you by the hand. It does not matter who that person is, so long as they believe that your dreams are valid. So for me, when you find a young person with a passion, don't disappoint them. Give them a helping hand and see them grow."
I think about persons past and present who represent the milestones in my life. Those who supported me, and those who didn't. More important—I think about those I hoped to inspire.
As a teacher, I remember those faces, the ones who looked up to me with such enthusiasm as I passed out construction paper  and scissors from my art cart.
My students had many questions for me. They shared their fears and family secrets. So many questions asked so innocently.
Why me? What did I know? I hope it was because they knew I would always be truthful and worthy of their trust.
In retrospect, I have one regret. I wish I had hugged them. I wish I had given them big, squishy, "I believe in you" hugs. At that point in my life, I didn't know the value of hugs. I had experienced only one significant hug in my life.
I was in the last stall in the darkest corner of the second floor girls' lavatory when the heavy door to the hall swung open with a squeak. Quick, clattering footsteps crossed the tile floor. Searching footsteps, pausing, moving forward again. Sister Florentine's voice rose above the chatter of the other eighth grade girls.
"Where's Linda?" she asked.
What? Why? Questions formed between my worried eyes. I left the stall cautiously, its door swinging shut behind me, and dragged my feet down the dark aisle into the light streaming through the translucent glass blocks above the porcelain sinks.
Sister Florentine ran to me and enclosed me in her arms. The fire had been reported on the radio. Her wooden cross pressed against my chest and the woolen sleeves of her habit enclosed me in their folds.
I stiffened, unsure of how to respond.
Sister's arms were wrapped tightly around me, squeezing and rocking as I stood stiffly in place.
It was my first hug.