This is Mental Health Week.
Last week I enjoyed a glorious retreat of self-discovery and restoration at Kripalu, the world famous yoga and wellness center in Stockbridge MA. I didn't check in under my writer name and I definitely didn't plan on writing about my time there.
I also didn't plan to be transformed by the experience.
First, let me assure you that this is not a woo-woo place. It's a serious non-profit devoted to helping us become our best selves through a rich catalog of courses for growth.
We were 16 participants in a program entitled "Rejuvenate and Reclaim Life over 40." On Sunday evening, we shed our flip-flops outside the door to our meeting space and claimed our places on the carpeted floor where a circle of cushioned yoga chairs awaited us. Our youngest participant was 42 and I was the oldest at 65. When Maria Sirois, our clinical psychologist leader, introduced herself, I'm sure that I was not the only one who was more than slightly envious of this sensuous 40-something young woman with a playful, positive style.
Maria told us that we were going to be given the tools that would help us to become more mindful, resilient human beings. We would increase our capacity to thrive and regain our sense of a life worth living. Really?
I began to cry. I was not the only one, of course. Maria passed me a tissue box while lightly, but sincerely, reminding us: "What happens in Kripalu stays in Vegas." Our individual burdens were varied, and no one was required to share their story, but we found that in our pods of two to six caring peers, we were safe. We could do this.
We would be dreaming and talking about very concrete, practical goals—putting our lives into perspective.
Would we really find serenity and begin living our true, authentic life in just under a week? We would, and we did.
Each morning began with an opportunity to participate in Gentle Yoga, a lovely way to greet the day with a relaxed wake-up yoga practice—easy prone positions or hands and knees asanas. After savasana, we rolled off our mats and followed the fragrance of breakfast.
Breakfast at Kripalu is always silent, giving us the opportunity to practice mindfulness as we enjoyed the nourishing, organic choices. Vegetarian, non-vegetarian organic, Ayurvedic, Buddha bowls— too many to describe here and all beautiful. Have you wanted to try healthy organic foods that someone else has prepared superbly for you? Ayurvedic spices, world sourced organic teas, and an abundance of fresh fruit and whole grain breads. Meals for Living and Thriving.
One is not allowed to use electronics on the premises, except in the Café or in the privacy of your room. I hand-wrote my notes and transcribed them to my laptop each evening. It turned out to be a good opportunity to review what I had learned each day. Mindfulness. Happiness. Flow. Loving Kindness. Courage!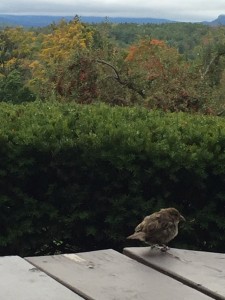 Outside there are expansive lawns, orchards, hiking trails, a lake, labyrinth and lots of places to contemplate quietly or share conversation. Sometimes I enjoyed taking my lunch tray outside to a picnic table under a canopy, even on a cool rainy day when a little wren, with her feathers puffed up against the breeze, was my only company. She hopped over to me and we contemplated each other with our heads tilted, eye-to-eye. I imagined that we were giving each other much needed encouragement.
By the third day, I had the energy to join the Yoga Dances during lunch—an hour of spontaneity during which we were introduced to yoga and Qigong moves that were translated to contemporary music, starting slow, gaining tempo. Fantastic sweaty joyous fun!
Our program also included Wellness taught by an M.D., a class in Qigong taught by- don't laugh- a soft-spoken, near Harrison Ford look-alike. We also enjoyed a superb class in Nutrition with valuable content that dispelled any of our predisposed ideas that a class in Nutrition might possibly be boring.
The next day I cried some more and finally on Wednesday night I sobbed for four straight hours as the clock inched towards midnight. Filled a wastebasket with spent tissues. I didn't know I had it in me. Letting go. Crying for the prospect of the new Life ahead of me.
Finally, at midnight, I threw a tunic over my nightgown and set out barefoot, to roam the halls where I made a walking meditation. Passed no one except a person talking to someone on the other side of the world, softly speaking in an Asian language that I couldn't identify. Found my way to the dining room where I made myself a cup of chamomile tea and closed my eyes as the raw honey drizzled slowly into the cup, wishing I could drizzle the honey over my head— wishing I could feel the sweetness seeping into my soul.
The next morning, I felt cleansed. My fellow yogis ignored my swollen eyes. Maria's topic of the day was Falling in Love with Life Again. Stillness, Focus, Self-Compassion. Using the tiny moments for relationship building.
I learned that it takes courage to be Authentic. There are epic gains to be made in living a true life of authenticity, but there will also be painful moments too- like crossroads decisions.
Late that night I took a sauna bath, lying back alone and naked in the dark as the heat drew the impurities away. I rested my hands on my belly, feeling my breath rise up with each intake, then drawing out and away with each release.
I came here on the edge of Hopeless. Now, six days later, I am on a path of Hope. Thank you, Maria. Thank you, Kripalu.