One of our sons is visiting this week with his wife, and a friend from his school days has driven up the coast to join us for a few days.
If there were a theme to this week it would be "Food and Tradition" because when mothers entertain sons, isn't that a major factor?
The mother begins with the questions a couple weeks out from the visit.
"What would you like me to cook?" she asks.
"Oh, you know, my favorites," he responds.
The school days friend has no idea what he's getting into. First the grocery list, the mountains of fruit and vegetables—all in season—because your body responds most efficiently to seasonal produce. Cherries as big as plums. Peaches that hold to a thumbprint test of ripeness. Then the seafood. Weathervane scallops from Alaska. We'll have them seared in cast iron with a drizzle of olive oil and a smidge of butter. Toss them into the nearly smoking hot pan just as soon as the two fats meld.
We have them stuffed and baked. Double-size portions and they wish there were more.
An entire king salmon, stored according to the fishmonger's instructions. We won't insult the wildest fish in the sea by freezing even a single ounce of it.
"Put it in a box in the refrigerator on ice," he said.
"Top or bottom?" "How many days?"
Marinated a half a day, then we bake and glaze it with pecans according to a recipe shared by my favorite captain—Capt. Brenda Thomas of the schooner Isaac H. Evans, out of Rockland, Maine.
The air in the kitchen doesn't have a chance to clear. If it isn't yeasty caraway rye bread, it's the pastrami ritual. The brisket, trimmed to a lean quarter-inch of fat, has been removed from the brine where it's been curing, stirred and flipped lovingly four times a day, and now, after rubbing with smoked paprika, fresh ground pepper, and ground coriander, it's ready to bake, sealed on a rack over a water bath. Do you know how long it takes to grind two tablespoons of Tellicherry pepper with only the peppermill from the kitchen table? It's worth it.
With the vat of brine removed from the refrigerator, there's room for the boxes of organic strawberries and a couple more bottles of wine. Layer the strawberries between paper towels in a sealed box and they'll hold for ten days—instead of one. But we don't need ten days. Strawberry rhubarb pies are on the menu.
Going kayaking today? Here's lunch for the dry box. Muenster cheese en croute. Shredded and baked with minced parsley, lots of garlic, and sealed in pastry covered with toasty sesame seeds. Remember to pack the local craft brew, an IPA.
A hike down Shinglemill Creek? Pastrami sandwiches and trekking poles.
On the return, crispy fried oysters with homemade coleslaw, the cherished recipe from the cafeteria lady where I taught in 1973.
"Do you always eat this way?" asks the school days friend.
"When family visits, yes, absolutely yes."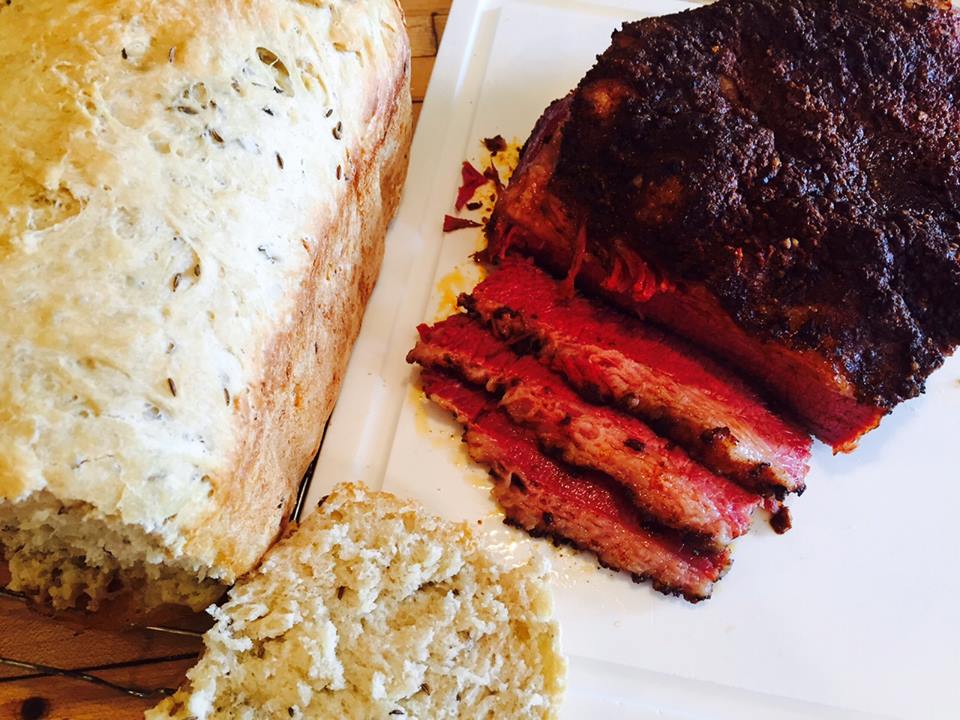 Food and Tradition.
It's part of every memoir. Follow me on Facebook.