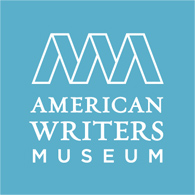 Today is opening day at The American Writers Museum in Chicago IL.
Actually I didn't even know that it was being assembled until page A13 in this morning's Wall Street Journal.
According to the review by Edward Rothstein (Critic At Large), the AWM has been created at a "sensible" cost of under $10 million: its 11,000 sq. ft. are housed on the second floor of an office building at 180 N. Michigan Avenue, Chicago, IL 60601.
Since I haven't visited, I can't very well make this a review within a review, but I do think the concept of a writers museum sounds pretty admirable. Of course, as a writer myself, I found myself questioning the punctuation of its name. Should it be American Writers' (possessive apostrophe) Museum?
No, I guess not. It's not owned by writers, they don't possess it, so it can hardly be possessive. It's not even for writers, as one doesn't go there to learn writing. It's best described as a museum for readers (Rothstein says that "an earlier era's powerful American writers' museums were called libraries.")
Mr. Rothstein, for the record, says "I wanted to like the result much more than I actually do." The fact that his review is entitled "A Cliffs Notes Approach to Literature" hints at his opinion so I dug in. The accompanying WSJ image shows The American Voices exhibit of 100 (dead) writers. Rothstein finds a lot to critique/criticize.
Again, I'll not quote his lukewarm response to the finished result. It seems to me that his review hints at his personal dilemma. He weighs the better and lesser points of the museum. I could picture him walking around saying "…hmm." On the plus side, Rothstein does say that the AWM was "put together with care and designed with panache by Andrew Anway". And FYI, The American Writer Museum is "the brainchild of Malcolm O'Hagan, a retired engineer who, after seeing the Dublin Writers Museum, was determined to build one like it here."
I could say something about Americans not revering their writers quite as much as the Irish. However, that might be debatable.
After reading the Rothstein review, I sought out the AWM website. They have a lot to share at the museum, and a lot of it is interactive.  There are a many events lined up, including writer readings and signings. Ha! I guess we all know what the newest writer coup will be.
My favorite page is their Affiliates list: The Museums/Writer Homes officially affiliated with them. A long list is it. A bucket list, to be sure.
My second favorite is the home page because my favorite deceased author, Herman Melville, is featured dead center—I mean, "front and center".
Checking out some other reviews online:
Amy Diegelman for BookRiot calls it "Chicago's New Literary Paradise".
The Chicago Tribune's reporter Steve Johnson calls it "far-reaching, dramatic".
The Washington Independent Review of Books tells the story of the museum's inception in this 2012 article.
It'll be a while before I get to Chicago. In the meantime, if you visit The American Writers Museum, we'd love to have you share your impression here.
---

I'd love it if you'll follow me on Facebook.
C'mon, you know you want to. 😉