The long story short is that in 2013, I began writing my coming-of-age memoir, THE GIRL WITH THE BLACK AND BLUE DOLL, covering events from age 3 through 21.
For the past eight years, I've hidden my secret life—my memoir writing life—from my three younger siblings.
I had no way of knowing what their response would be, but five days ago, one year after Mummy's death at 92, three of us were gathered at my youngest brother's home in western Massachusetts, and I decided it was time to let them in on my secret.
To prepare for my reveal, I reminded myself of the inspiration and reassurance Cheryl Strayed's words provided in my writer autograph journal in 2014.
"Dear Linda, I so enjoyed our conversation at my house. I hope you will always remember the spark that drove you the very first time you wrote with passion & delight. There are so many uncertainties in the literary business, but there is no doubt that what drives us forward as writers can't be thwarted by anything. There is nothing that matters more than the truth you have to share on the page. Trust that above all. Good Luck! Cheryl Strayed"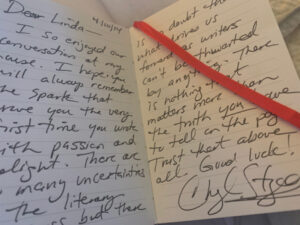 By 2014, I had finished two drafts and began querying agents. BIG mistake.
Two drafts is at least four drafts too soon for querying. I received dozens of rejections. Most of them didn't even send official rejections, they just let my query automatically age out of consideration at Querytracker's 121 days. I did, however, receive one request for a full.
It was from a New York agent who said he loved it. "Talk soon!" he wrote. And then he ghosted me.
I learned my lesson.
After the fifth draft, I hired a developmental editor, who gave me brilliant, professional feedback. I wrote draft six and seven and sent off a handful of well-researched and personalized queries.
The next request for a full came from an agent I have tremendous respect for. She's in Toronto and by then it was 2021.  She also rejected it. Note to self: Don't ever think of any agent as "my dream agent".
I haven't queried in six months. During this time, I've taken four query classes from different writing teachers while further fine-tuning my manuscript. About ten days ago, I had a eureka moment that would dramatically improve the reading and comprehension of my story.
I made those changes, and in preparation for The Reveal, I had THE GIRL WITH THE BLACK AND BLUE DOLL printed and spiral bound for beta-reading. One copy for each of us siblings.
When I got to Gerry's house, I carried in a tote bag bearing my secret life. I quickly tucked it in a corner of the dining room and joined two of my siblings and one sister-in-law with lots of hugs and kisses.
Frankly, I was a wreck. I wasn't 100% convinced I'd be able to go through with it.
As soon as we were all settled at the dining room table, I said, "I have something to share with you, and I think this is a good time."
Everyone looked a little shell-shocked, so I said, "Don't worry. It's nothing bad."
Later in the afternoon, Sharon said her first thought had been "She can't be pregnant!"
Right. I'm 72.
Gerry said his first thought was that I might be transitioning. Nope.
Over the next five hours, I shared when, how, and why I had finally become a writer. I mentioned that I've been encouraged in the last two years as awards, publications, and speaking engagements began to come in.
I was taking Lidia Yuknavitch's The Body of the Book manuscript class in Portland OR when #MeToo gained traction following the exposure of widespread sexual-abuse allegations against Harvey Weinstein. I wrote my #MeToo chapter The Colombian that morning and read it to the class that night. It was published by Jennifer Pastiloff in The Manifest-Station.(Unfortunately, they misspelled "Colombian." The typo: "Columbian." I've made my share of typos, so I've ignored it.)
Some of my favorite experiences were being named 2021 Finalist for Best Unpublished Memoir by the Pacific Northwest Writers Association in Seattle, and being invited to address the Omaha Chapter, National League of American Pen Women at their March 2022 meeting.
I still don't have an agent. I explained the query process to them and the much-desired "request for a full".
As we were talking, frequently, Sharon would ask "Do you remember the time…?"
And I would respond, "YES, I have a chapter on that…  And wait— I'll read it to you."
It was So Much Fun and we all were so elated with our surprise afternoon's entertainment.
Gerry said he was enlightened since my memoir includes a period of ten years before he was born.
Sharon said it was fascinating how each of us viewed same events from different perspectives.
Gerry added that he felt it's great that I've reflected on my early life to consider if there's been any influence on unfolding what he called The Life Experience.
My sister-in-law Robin said "I'm struggling with this. There are mixed emotions because I met your parents at a much later stage. It's sad and weird for me because your story is a different experience." Tears were shed.
Sharon added,  "As I read this, I'm just glad that you were able to write it down so eloquently."
What I know now: My siblings are 100% supportive. That is, thus far, two out of three of them.
I realize my fears were totally unwarranted.
Sharon and I talked about things we've never spoken of.
It was the Best day Ever.
Immediately after all was said and done, and still with all of us at the dining room table, I checked my email.
Omigosh! There was an email from the author Paddy Eger, representing the EPIC Writers Group in Bellingham WA. I'm a member and she was asking me to call her at my earliest convenience. On a Sunday. On Mother's Day!
 My fingers hit those numbers fast and furiously. She answered.
She wanted me to know that my Prose piece, Mr. Buchwald, which is Chapter 61 of THE GIRL WITH THE BLACK AND BLUE DOLL, had won the 2022 EPIC First Prize for Prose.
What timing!
This. In the dining room immediately after The Reveal. We were all mind-blown. What an affirmation.
---
Update: June 13, 2022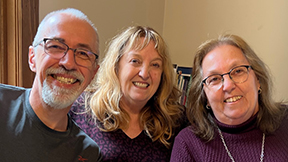 My other brother Richard (aka Dicky in the memoir) is now reading and approving of my story. He's also been freaking us out with memories of his own!