Yesterday, I accidentally found myself hiking the Appalachian Trail.
How does one "accidentally" hike the Appalachian Trail?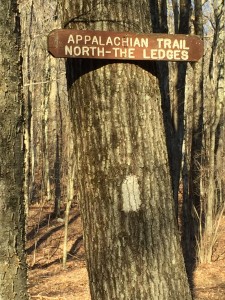 By hiking a trail that overlaps the A.T. for a short distance. Pleasant surprise!
I'm here in western Massachusetts visiting relatives for the Easter holiday. Under Saturday's brilliant sky, I went looking for a trail to hike.
Decided on Beartown State Park, between Monterey and Great Barrington. Chose the Benedict Pond Loop Trail.
As soon as I got out of the rental car, the smell of wood smoke enveloped me with another blanket of memories from growing up on the farm.
In January, we always hiked to our back woodlot where my father and grandfather would fell oak trees for the furnace while we kids played in the snow.
Before they fired up the chainsaw, they'd set fire to the previous year's brush piles. We always tucked in foil-wrapped potatoes from the barrels in the cellar along with a dozen or so ears of last summer's Golden Bantam corn from the freezer. That was our lunch—the potatoes tender, the corn— sweet and just charred enough to stick to your teeth like candy.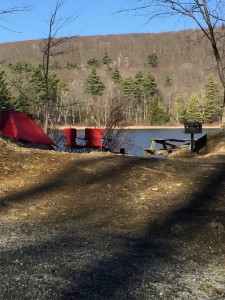 That's what I was thinking as I headed out onto the trail, passing the campsite of two men who were splitting a pile of oak for the cold night ahead. 39 degrees. That's what he said.
"We spend the whole day splittin' wood so we won't freeze all night."
Eastern exposure campground. Good exposure for summer camping, but not so great for early spring. They wouldn't be absorbing any of the late afternoon warmth that was shining on the opposite shore behind us. It was a dandy campsite though. Looked like they'd been there a few days. Pots and pans and a fire ring full of hot coals.
The trail didn't have a sign-in/sign-out accountability sheet like we had in our Arkansas state parks, so I just talked to the campers for a few minutes on my way in. If I was waylaid, surely they would remember.
"Oh yeah, I remember that lady. Came by here about fer o'clock. Said she was gonna hike the Pond Loop. Blue shirt, black vest. Yeah, that's her."
I was annoyed that I forgot my Black Diamond trekking poles back at home in Washington. The folding kind are great for travel, and a great help in boosting myself up over rough terrain.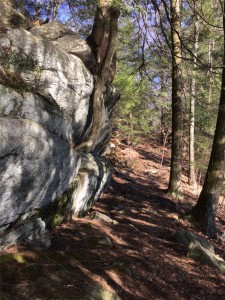 The Pond Loop has lots of boulders strewn about from the Ice Age. Geology 101, UMASS, 1971. Lots of flat rocks handy as stepping stones too, but the trail is pretty dry. They didn't get a lot of snow, and it seems like mud season might not arrive this year.
I followed the blue blazes, only having to backtrack once in an area where a blaze must have faded. Otherwise, a very well-marked trail.
Met a family of four that included two young girls about five and seven, rambling excitedly, the Dad telling the girls to follow the blue, the girls' short legs stretching from one rock to the next.
Was tempted to ask if they'd seen any bears. "Beartown" State Park might have bears, right? Bit my tongue. Didn't want to create any false anxiety.
Instead I just remarked on the crystal clear air.
The reason being that I might have been just a bit theatrical about bears when my own children were young. When our oldest son Chris was about two, I used to dance around the kitchen with him in my arms, singing "The Teddy Bears' Picnic" a la Bing Crosby.
"If you go down to the woods today,
You'd better not go alone…"
The result was that Chris, with his imagination in overdrive, developed—unbeknownst to me—a fear of the Deep Dark Woods where the teddy bears picnic.
When he was five, we thought it'd be fun to attend the annual Teddy Bears' Picnic, held on the Amherst Town Green. Packed up the boys and their teddy bears. Drove down from the hills and found a good parking space. Saw the tents. Saw the other children homing in with their teddy bears and picnic blankets.
Chris refused to get out of the car. No amount of coaxing could convince him that this was going to be a safe activity. He wanted no part of a Teddy Bears' Picnic.
I hope that's the only darkness I bestowed upon him.
I kept along the trail, by now on the opposite shore with the sun at five o'clock.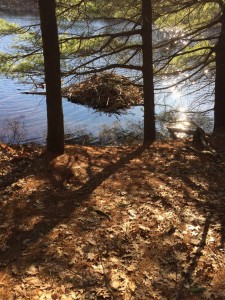 Saw an impressive beaver dam. Beavers, no doubt, asleep below in their cozy lair.
Met a couple, bearded Portlandia type and female friend in standard gear, who didn't even seem surprised that I was alone. I told them that I wished I had my dog Lily with me. As soon as I said it, I thought:
Did I really just tell them that I'm out on this gorgeous day and I'm wishing I had my dog with me?
Yes. Yes, I did. She would have loved it.
At the restaurant earlier that day, it seemed that everyone wanted me to not be alone.
In line waiting for a table behind a young couple, "Are you together?" "No."
At the head of the line with three or four people behind me, "Are you all together?" "No."
While being handed a menu by the waitress, "Are you waiting for someone?" "No!"
Geez.
After a nice straight stretch of access road, I found myself facing a sign that marked the Appalachian Trail sharing the path. Nice.
Couldn't resist stopping to take a selfie on the A.T.
Took about fifteen before I was satisfied. Not satisfied enough to upload it here. Ha.
Continued on. Met another young couple, this one with fishing rods.
Told them about the A.T. crossing up ahead. Showed them on the map.
They didn't know. Were suitable impressed. Probably took selfies when they got there.
Returning to the car, I pulled my iphone out of my pocket to check my timing. 58 minutes, including stops. Just about aligned with the suggested timing on the map. A great day in the great outdoors.
Beartown State Park, Monterey MA.